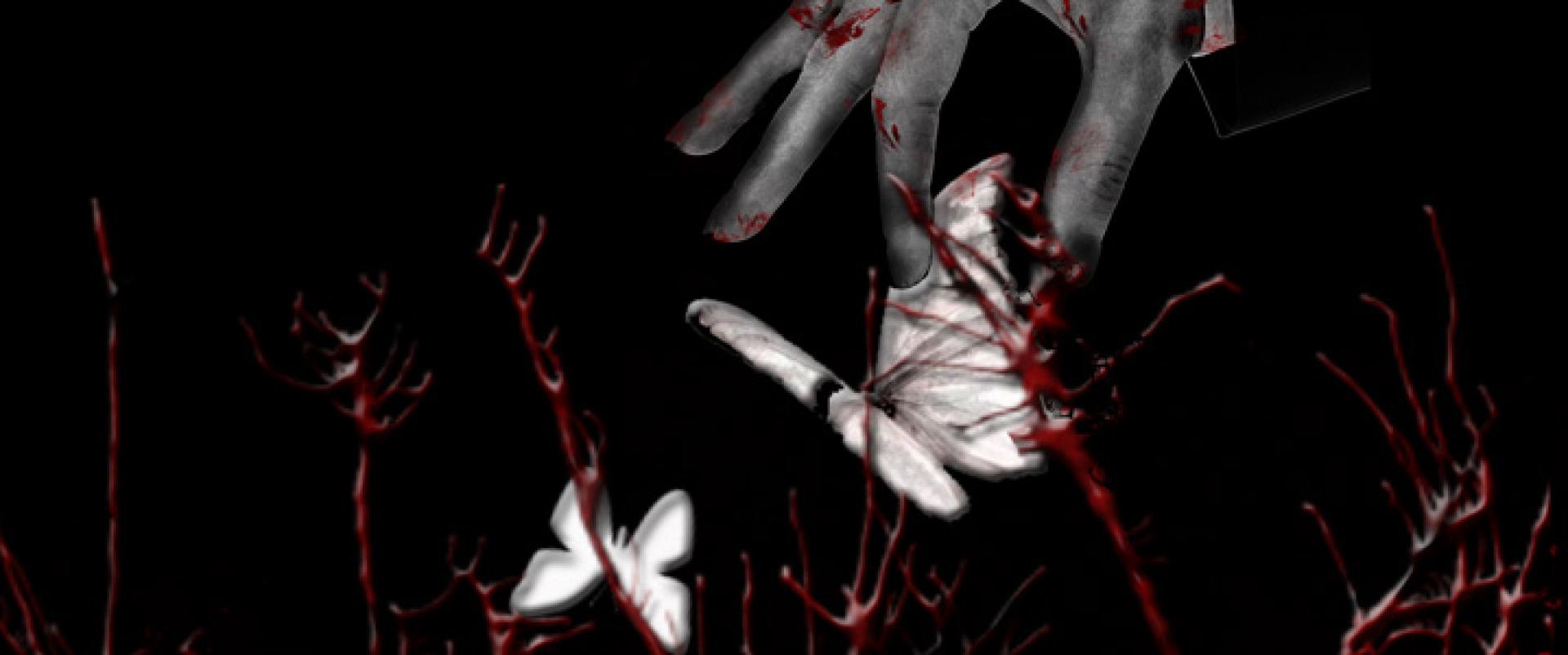 Anita Novák-Tihor: Negotiated Life (Chapter 1) (2016)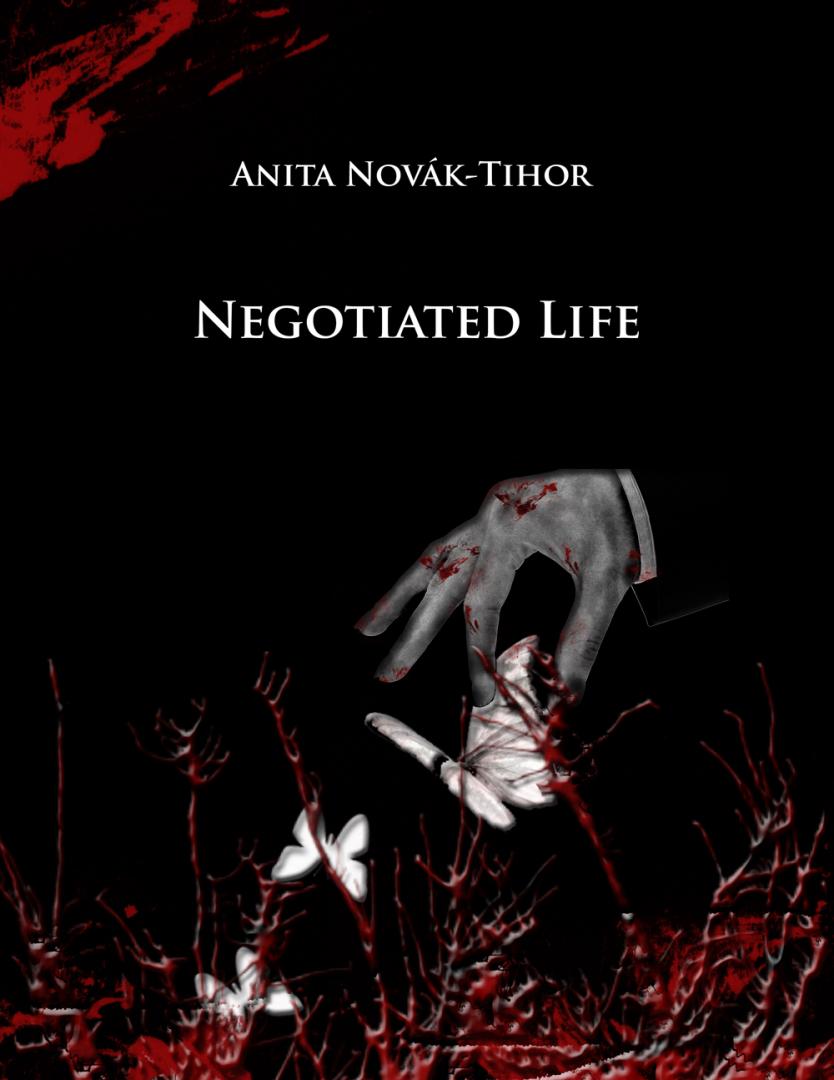 Anita Novák-Tihor: Negotiated Life
Chapter 1: The Pact
It hurts. It still hurts. Or rather not "still", more like "again". I don't know. My eyes dried out, and pain is throbbing inside my head, as if my skull would be too tight for it. Bursting, breaking out, like drowning underwater. A geyser from under the ground. It's hot. Too hot. I can't breathe. I slightly feel my chest panting, as it moves up and down, but not my own heartbeat, in this intensely moving cell. If my head wouldn't throb, I'd believe this is but a vain reaction.
Aw, how she's growling! – someone's laughing next to me. – And what a beautiful arc she makes!
That's only cause of the convulsions – giggles another. – It's fine till she's moving.
She's bearing it well!
Bastards! I won't give them more of such pleasure. Clenching my teeth with a last, who knows-where-I-gained-from strength, to stop my burning chest moving forth, this pathethically struggling body should make its last kicks.
- Don't let her off yet!
A huge smack burns my skin. By the miracle of the surprising stimulus: I feel clear again, I feel the extraneous shape in my body, as it ruthlessly bursts into places which it isn't fit for. A sharp, edgy thrust, and in seconds the pressure intensifies, my blood rumbles the devil's trill on my eardrum. Warm blood flows slowly from my ear and the horror bursts its way from my throat, shakes my chains, by which I'm fixed onto the steelplate. The long cry drowned into a bitter moan as the air left my vocal cords.
- Give her more!
For a long time, I've already lost control over my burning muscles. Who knows where I've got it from earlier. I can't stand another touch. Escape... I want to escape, but the drugs are hiding the exit even from this weak mind, just running their mad gallop in my veins. No exit. Nowhere to run.
- Well, this is her end.
Let's just leave her here.
This icy, edgy cold surrounds me. Slowly, what was warm and soft gets colder and frozen, leaving me behind in a crystalline cravis. Only inside it is hot, it struggles to burst out, maybe to fill with warmness all that has been dying for a long time now. I'll be left here, in the cold. Here, to burn only from the inside, from rage, shame and inertia, boiling like a volcanic magma: sealed with my own hatred.
- But shes's still moving. Still warm.
Ohoooo…
No. You're right. She's done.
This is the lowest of everything. These are not even humans. These are demons.
These are humans to the greatest extent – a deep voice giggles in my mind. – This is true humanic, fallible darkness.
Inside I laughed bitterly before another cramp attack, breathing hastily. As if there's anything to fight for. As if even with the loss of control, my body would have known: I don't want to die here and now. I can not die yet. Not until these disgusting creatures exist in this world. Until such filthy desires can be fullfilled. So unfairly at the mercy of others. Without punishment.
The human body is truly enthralling – the voice continues to echo through the blood's rumbling – as it obeys a stronger will. – The admission fills my mind, squeezes my chest, and spreads all over it in my body. As if travelling through my blood in my entire existence.
What is this voice? So much drug in me that it's causing hallucinations? All my struggles are in vain, death is already reaching out to me, I even see stars because of the pain. – I am no illusion – the voice vibrates all my nerves. What a mystification by my consciousness. Just before death, even he betrays me. Who would call for me in a time like this? Nobody's there for me.
And the voice laughed at me. Fine, make fun of me. I still haven't given up. I might be a fool that I'm still fighting, even if my body betrayed me. I'm restless. I can't give up. Laugh at me. This is nothing compared to that.
Hmmm. You have a good potential. Should I help? Don't you want revenge?
It's bitter. Every revenge is bitter.
You don't like its taste?
Taste has nothing to do with it. It doesn't bring calmness, neither does it heal wounds. It doesn't brings back the dead.
I never promised solace to your soul – giggles again on my new rush. – But why would you suffer if there is a solution?*
*Who do you think you are to offer any promises?! – The rage made my blood rush again, my eyes stuck up and my hands grabbed the first thing I could hold onto, until it faded. – Every promise is just the womb of betrayal.
What I am offering is not a promise that's born pure. There is nothing pure, clear or innocent in it, just the truth.
Truth. The only truth is there's no truth. Every promise they made has been broken. All of them! Even the promise of life is nothing more than a hand full of water that flows out between fingers.
- Done. – said the stranger again. – The symbol has been drawn. We said the prayer, the offering is on the altar, with fresh blood of a tormented white sheep, as it's written.
I told you, this makes no sense – said the other one.
I don't understand. It should have appeared already…
Do you understand now? – resounds the voice again.
Ah, yes. An unsuccessful summoning, for which I was used as an unnecessary sacrifice. There's no such thing. No soul, no heaven, or hell. Only this surreal three-dimensional world, where the weaklings try to earn power this way: using and tormenting others, stepping through corpses, higher and higher. How ridiculous. Disgusting. Filthy. And foolish. How could anyone get stronger through me?
- It should appear before she dies, to devour her, and in return make our wish come true. But if she dies before…
She won't hold on long like this.
Whatever they want to summon, they treat it as a peddler. As if anyone could do business with something like a demon. My chains have been taken off. No wonder. This vessel is barely moving now. The chest is panting and .
- Maybe it's the chains? – They're still not getting it. Fools.
May I erase these impures? – he asks. He always just asks. As if it actually existed, not just being the comforting sense in some part of my mind. I'll be dead anyway.
Why would you do that? – I still answer to the voice. I'm truly out of my mind.
Not for free, of course. Your soul is at stake.
My soul… As if it's worth anything now.
Poor mortal – the voice caresses inside, with cold, soft hands. – You have no idea how precious your soul is, don't you? Unfaithful heart, beating for itself. – The echoing turned to tinkling as it played on my ribs. – For this soul, I am willing to help you.
Sure. You're supposed to be the summoned demon, who would devour my soul on this cold steel plate. This is the essence of my sacrifice, isn't it?
Depends only on you.
Why? – The air to breathe is running out. Not that I could feel it. The pain is now only a distant and annoying pinching, and the rumbling nearly faded away. Drugs. It slowly stops my whole respiratory system. Maybe they have given me adrenaline earlier, that might have caused the fast heartbeating. It has spread through my whole body by now. I'm drowning, slowly, yet I don't feel panting anymore.
As I was lying on the cold plate, everything became silent.
You'll be finished soon. I give you my offer one last time. Promise your soul till the next time and I save you.*
What on earth could life have for me, if I manage to escape from here?
***Only what you can take. You don't have much time.
**
What I can take. I never wanted anything for myself. Maybe that's why I've never got anything. I just wanted to live. But they took that away from me. My only treasure.
Thieves, murderers.
It's mine… Why are they taking it from me?
To take back what they have stolen.
Why are they hurting me?
What they broke, what they tainted.
What did I do?
To sell something that's not theirs.
No! I don't want this!
Revenge.
*It's my soul!
This power belongs to me!
Silence.
I want to live! Give me strength! – Last heartbeat, last sigh.
The Contract has been concluded – the voice caressed away the dark sparks before my eyes with its cool hands, it swept out the hotness from my chest, gently holding and pumping my heart, till it started to work on its own again, from where it stopped for a long moment. The body that I possessed was cold, so the hot blood started to flow like a painfully burning lava in my veins, and the air broke in my lungs, filling the prison of my ribs. I heard the flow of life rolling, washing it all away.
- For God's sake! She's still alive!
I'm trembling. Yeah, that's how it must be. This is natural. What is warm and lively inside, is cold on the outside. This is a proof of life too. They put my everything on sale, but the deal depended only on me. And I concluded it.
- What's this?! Jesus!
How impudent – the voice giggled, but neither in my mind, nor in my body anymore. Around me. It came from everywhere, and echoed from the cold room's walls. – Mentioning a hypocrite marketing manager in front of me. After all, you weren't waiting for him, were you?
- This… This...!
Offering a sacrifice, defiling it, before I could even touch it. Torturing is not for humans to do – he scolded them like a mother would.
- Dear God! This is real!
The dark wrath condensed, one could almost touch it. It was penetrating me. I was one with it. I knew it, it was with me the whole time, my only and persistent companion on this painful night, flaring up the sparks again, and again. How beautiful…
You charlatans, you pathetic worms! How dare you?!
- But... But! The sacrifice!
You have no right to bargain with something you never had! – The voice rose majesticly, spreading like black velvet that covered and warmed me up. Blessed darkness. – Those who do not dare to offer their own soul for what they desire, shall not be rewarded. Even I myself am filled with disgust for you.
- But… The pact!
It has been concluded. – The harshness tamed to a soft voice as he turned to me. – What is your wish? – A hand covered in soft silk carressed my face, making my body light and free of pain with its touch, my back rose from the steel plate, lead by this gentle invitation, and my legs slide to the side. I'm dressed in my own blood that covers everything else around me. – What shall I do? – he asks, while covering my naked shoulders with a gown spun from the darkness. I am empty. Only wrath fills up everything in me. I look up to his face. A beautiful man. Burning red eyes, with a gleam of the power from the softest, deepest darkness, shining on me from that face with the raven black hair. I have never seen such beauty. Such strength. And yet, I have known him. Better than anyone. He was the materialized form of my own darkness that gathered in my heart. A mighty wonder. A terrifying beast, glancing with sorrowful understanding.
- Kill them – I asked huskily from the painful and hopeless cries and moans which were unheard by anyone but him.
The red eyes lighting up in the dark, his perfect lips pulled to a confident smile. The smile of the beast. Fearful. Beautiful. – **Wait for me here.
**
Not as if I wished to leave. Not as if I could. While he turned away, his voice echoed again, in an evil-boding, ancient language, with which he tore those two apart. With all of his words. Blood spurted, even from that far, where those two ran from the slowly yet surely approaching monster. The power in the words overtook their every step: a torn limb dancing to the silent melody of twitching nerves, the exploding heart in the chest scattering life like red confetti. Even from that distance, I saw every detail of the melting skins, blistery boils, falling teeth and those collapsing pieces of vessels.
In the end, I even found a little bit of comfort in their death scream. For my family, who died for me. For myself. The spark of confidence did not blaze with a huge flame in me, it was merely a trembling candle light. But this gave me even more warmness than I was hoping for.
The creatures crawling from the shadows of the mystifying candlelights leapt on the growling remnants. Sliding around without eyes, seeking where they shall start their feast, almost shrieking at each other, savaging each other, as the tearing tendons' and cracking bones' echo rebounded from the walls. And one of their victims was still holding onto a stone on the floor with the same despair I had not long ago: to stay alive. The crampy fingers ended up between the all-teeth jaws, and he lift up his long neck as he carefully swallowed them, so that his bloody saliva would drip on the nape.
I watched it all. Without a drop of remorse or mercy, exhausted and empty, but satisfied with their punishment.
Their pain will not end here. – It sounded pleasant, almost turning into a humanic voice. The demon in front of me didn't have horns, hooves or a forked tail. He was just perfect.
- Nor will mine – My voice really went away. I didn't want that, but I couldn't expect more from a tormented body. And he smiled at me gently, kindly.
Let us leave.
As he lifted my cold, naked body from the altar, my head tilted on his shoulder. Adjusting the dark gown on me, he slowly left the room, with quietly clattering steps on this next dark corridor of my life.
(Published with permission of the author. Republishing is prohibited!)