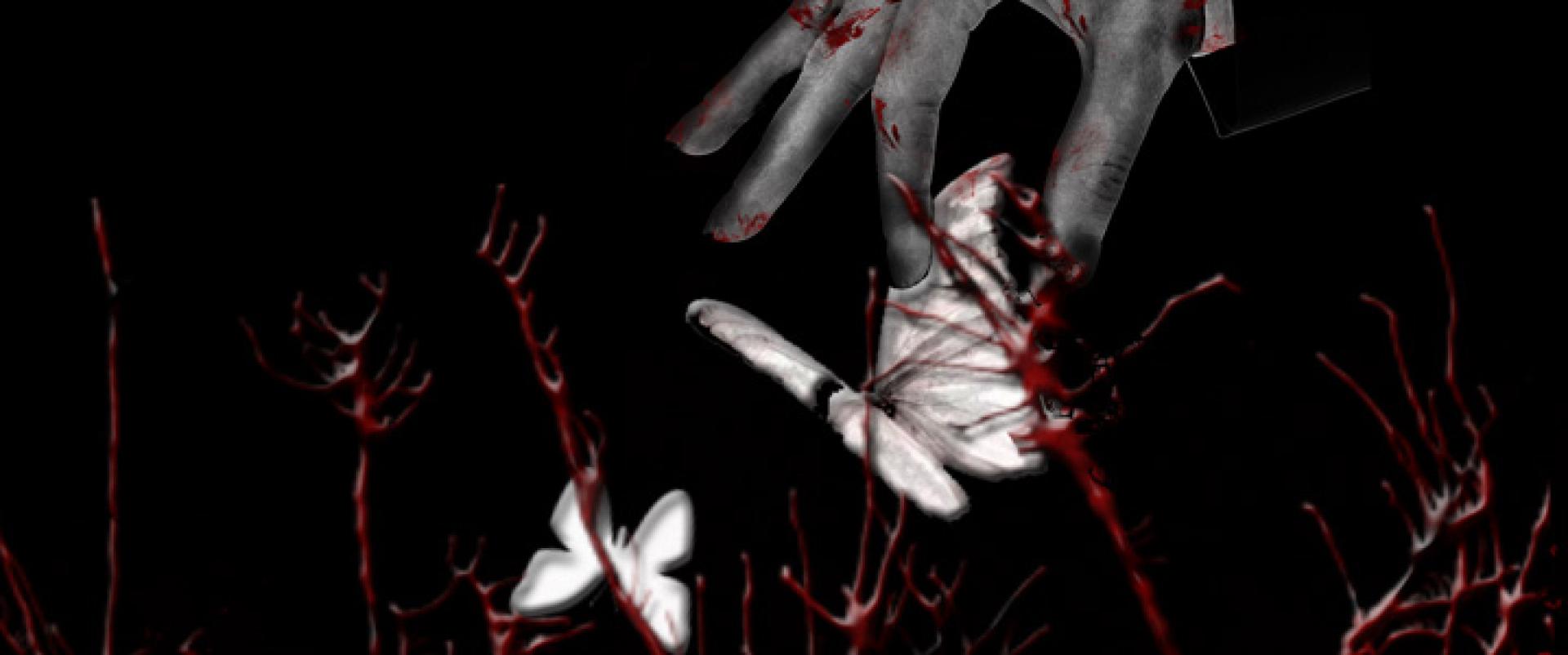 Anita Novák-Tihor: Negotiated Life (Chapter 4) (2016)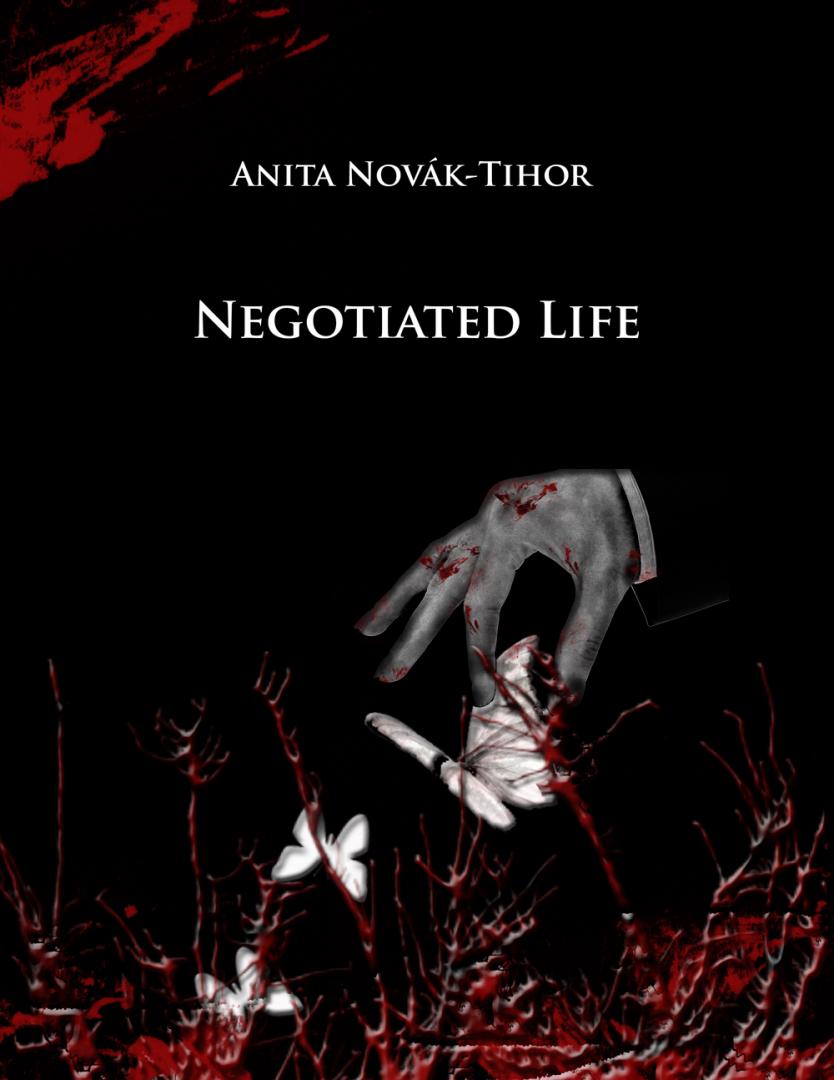 **Anita Novák-Tihor: Negotiated Life
Chapter 4: Newborn Monster
**
The kiss on my forehead was like when a horror movie's most terrifying scene is switched off on an old television. The sequence of sounds and images still echoes, however the screen itself darkens, leaving a last dot of light and finally it fades too.
I told you, our contract does not contain anything pure, only truth – I heard in the dark emptiness. I didn't know if it was only in my head or outside of it. The hellish whisper continuously haunted me and was accompanying his voice.
What is truth?
The only truth is existence.
Then what is this emptiness?
The lack of fear. The power, that cast it out. Everything you wished from me, replaced with what you gave to me. The only thing that divides it from being fulfilled is my name.
Two hands released my covered eyes but what I saw was nothing I was used to. We stood in the living room where the walls were covered with a black and red net of veins, pulsing, searching for life. I saw a spider in the corner, running for its life as a red tentacle peeled off of the wall and grabbed it in an instant, assimilating and devouring it. The life force vibrated through the whole system, the ceiling, and in the corner a cocoon was growing which started stirring. Something was about to hatch.
What is this monstrosity?
The matter of evil. Your parents died here. In fear, aggression and pain. This was created from the sequence of events, in fact. However you clean the house, there is no compound which can wipe out this contagion.
The cocoon was about to hatch but it clearly was a struggling and painful birth, whatever evolved inside.
– Except me? – I just slightly turned my head to the side, but I couldn't tear my gaze off of the terrifying phenomenon. – This is real like… those…
Exactly. And if you do not help it, it will drown.
– Who would want to help this horror?! – I turned around but I wish I didn't. Everything was covered in black mucus around me, the air filled with the sweet smell of rot mixed with the metallic fragrance of blood, the shadowlings twirled around my ankles, slid on my feet squeaking like some barely materializing xenomorphs. I solidified to motionless from their sounds and approach. Their never got this close to me up till now.
A marrow-shaking scream bounced down on the walls from upstairs, which were followed by my mother's growling as she crawled down on the stairs. She had nothing to speak with, her pharynx stood out from her throat, painting the clean wooden cover with blood.
Her eyes glowed with terror and fear, with no sanity in them.
– This is not my mother.
No.
– And I am not ME anymore.
No.
– What am I?
From now on, you are not human, but mortal.
I stared shocked at the entity crawling up to me. I wanted to run away, but the beasts sliding up my legs immobilized me.
– If I give you a name, will you stop this?
I cannot stop what I am not doing.
– Then what the hell should I do to stop this?! – I squeaked as the shadowling hissed in my ear and salivated on my shoulder.
Accept and embrace it. Give me a name, to rule what you wished for. The contract is complete when it is sealed.
– What seal?
Carve my name into your soul with your blood.
– I have no idea what you're talking about!
The apparition of my mother too was crawling to me on the floor in that black gluey dirt and reached out to me. Her stare was more frightening than the phenomenon itself: raw suffering without a spark of sense. The mark of the demon's kiss burned so painfully I'd rather had my own skin torn off. Trembling in cold sweat I stared at the demon's red, unaffected eyes.
– Why don't you have a name?
Mortals cannot pronounce it. It is part of the seal to name me. Give me a name.
He stood there doing nothing but looked at me as my mother held on to my legs, teeth scratched my ear and the cocoon was fighting more and more desperately and aggressively. I don't know what to do, I don't know what to do! Moans, screams, growls, hisses and a whispering voice's chanting in my head, the pounding veins on the walls and the smells that made me nauseous. I couldn't stand it.
I threw the all-teeth nightmare that slid up on my arm, by grabbing it behind its head, to the circulatory system that covered the wall, which immediately caught and devoured the squeaking, struggling beast. Then, the power beyond life spread over the whole house with black sparks. I tore my leg from my mother's cramped fingers and with the head of the one sitting on my shoulder in my hand, bounced to the cocoon. Cutting out the thing with the shadowling's own teeth I dodged out of its way screaming.
And someone palmed the doorbell.
The demon was nowhere. My mother was nowhere. Just the creatures and me and this something that fought itself out from the cocoon. Did I do it right? I don't know what this is! I have no idea what this is!
A long leg flailed out from the membrane, and another, and another until the monster lunged for my arm and bit me.
Screaming in pain and fear I tried to strike it off but the more I tried the more it held onto it and the harder it bit.
Someone banged the door.
Be it anyone, he will break in!
GET LOST! – I clenched my teeth as I grabbed this things nape and unsaddled it with all my force then threw it into the corner and ran to the door.
Slightly opening the door hastily, I looked up at the detective.
– Mr. Oldwood!
– Is everything alright? I heard screams.
– Cooking is hard… especially with a badly raised cat – I panted, wiping my forehead.
– It has a mean bite - he noted, and sadly I only realized it when I glanced down on my bleeding arm.
– Eeeerrr… yeah. Pretty much. If you excuse me, I'd take care of it.
– If you excuse me, I'd like to go inside.
For a long moment we just stared at each other then I jumped, spooked by the demon's words.
– Who is it?
– You have company? – he asked, immediately sliding his hand to his kidney holster but still analyzing my expression.
– I have – I signed with my glance that the gun was not necessary at all – I'd like to have some comfort…
– Pay me a visit at my office tomorrow. I'd like to accompany you to the police. – Instead of his gun, he pulled his card from his pocket, gave it to me and nodded. – Rest well – he turned on his heels. I waited for him to leave in an old, brown, three-door Impala before closing the door.
I only dared to glance to the right slowly, where the newborn monster already clambered on the wall, attached to a vein of the web, sucking blood.
My mother's apparition ultimately disappeared, leaving only her marks on the floor and the stairs. I carefully retreated until I bumped into the handrail of the sofa and fell on it. The monster climbed off of the vein and slowly approached me.
– I want to get rid of these.
Better to get used to them. They are part of you, just like me.
– But I don't want to see them all the time!
This was your choice.
The creature that pillared on six legs with grotesque toes, had six yellow eyes in two columns, its spine spiked out of its back, ribs visible under greyish-red skin, stomach arched up, tail waving from left to right, stuck out its tongue from the skull that reminded of a horse's and its mouth enclosed with irregularly standing teeth.
I uselessly retreated to the other handrail. It easily jumped on the backrest and stared at my face from close.
For some reason I thought it wouldn't hurt me but I didn't dare to touch it either. It sniffed the blood that was flowing from my arm and tainted the sofa's tapestry, its nose holes widening and it rubbed its head into it.
I stared at the creature, silenced in this surreal situation. I was the one who said his powers shall be mine… this thing… belongs to me?
Born from you and the victims' suffering. It lives by you.
– Rel – I named the beast and reached my bleeding right arm for it, than it held its head up from the tapestry, licked the wound it caused before with a rough tongue and fell in my lap.
It was a terrifying image. The chill of the thought shook me that a bestial, otherworldly monster like this just hatched in my home and was now napping in my lap. A part of me caught the connection, the other wanted to escape, terrified.
With this, we already started – he materialized again out of the blue. – If it could talk, this child would call you mother.
– This is a monster.
– Not more than the one whom it was born from. And it will feed. Grow.
I watched the six-eyed grotesque being's head, legs and the thought just popped into my mind, that by this thing, will the ME get devoured. What should I do now?
Detective Oldwood.
– I'm leaving – as I said, Rel climbed off my lap so I could stand up.
– Already? We just started – he smirked.
– This may be entertaining for you, but I need to survive. If not, you wouldn't stop from time to time. If you want more, you won't go any further than this. – As I stated, I hurried to wash and band my arm, grab my coat and opened the door. – Even I need some peace of mind and to recover from this terror-roller-coaster. – I shut the door behind me, sped up my steps and collapsed with tears when I left the first corner. I needed to cry it out. I need to pull myself together and keep my sanity. Sanity.
– Miss, you okay?
I stood up and ran in the opposite direction where the man's sound came from. I couldn't save someone in this tattered mental state, even though I was in a huge need of human empathy.
Oldwood. I checked his card for the address. He'll be perfect to build a connection with the averageness
(Published with permission of the author. Republishing is prohibited!)