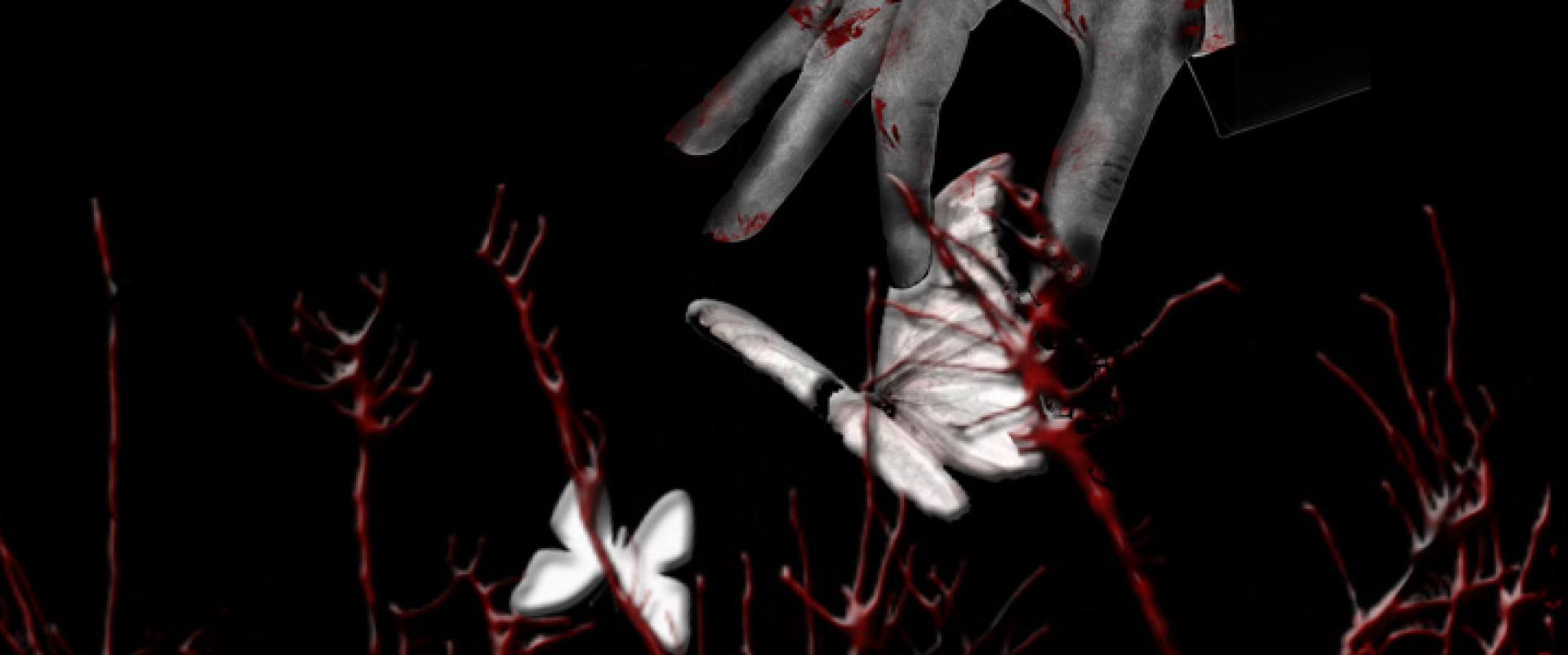 Anita Novák-Tihor: Negotiated Life (Chapter 6) (2016)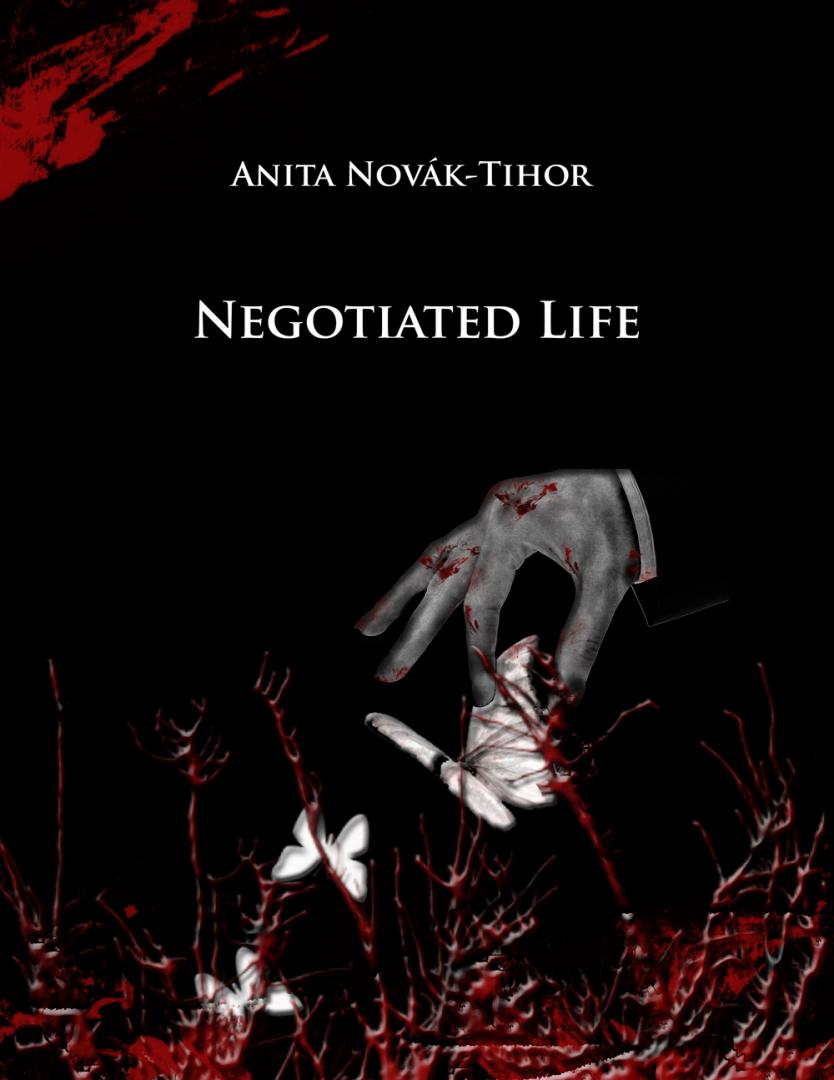 **Anita Novák-Tihor: Negotiated Life
Chapter 6: Confluent Reality
**
I didn't sleep the next three days. The pulses that uncontrollably fell on me left me not a second of peace and the demon didn't lighten my situation either.
To be accurate, he did nothing at all.
He didn't protect me from what I saw, heard, felt every day. The whispers from the emptiness, the threatening and pleading words, the spider-webbed, gluey energies of stress and sadness, the flickers of anger, the faces which deformed as I looked at them, were all a ride on the rollercoaster of reality in a haunted castle.
There wasn't a human, with a real face invisible, nor an animal with insensible instincts. Every honest intuition had left its mark in the air, soil and water. Impure intents, offended self-esteems, broken dignities, selfish interests, twisted personalities.
I figured them out in three days and wanted to see no more. I appreciated Rel's ugliness more than people's fake faces. He was as he was. Nothing more, nothing less.
And there were only two so far whose true self I couldn't see: the demon and my own reflection.
I rather played couch-potato in my house than to go out and mingle with humans. It was hard to pretend being normal enough. I didn't even ask the demon if this stays permanent forever. Obviously, it will.
Rel's behavior was simple. He did what I told him to do, although his constant glare was terribly disturbing, I did not dare letting him to be more independent, afraid of losing control over him.
Again, I leaned over the labor contract displeased, thinking over if I actually was able to take this job at all. Could I focus on work, if I heard the whispers, saw the dashing shadows, what's more: what if the paranormal activities were going to multiply around me? There were already physical manifestations at the hospital, not to mention the man I killed on the crossroad. How would I explain what none else can see? Or my own actions? It was weird that the cops haven't knocked my door yet, 'cause I definitely left fingerprints on the car's door or at least lost a hair. The wound Rel bit was still visible and I was unsure if Rel himself wasn't.
Despite all, there were no reports in the news about a grown-up man brutally killed in his own car.
I read the offer over and over again but the decision couldn't be borne, although with this, I could also starve to death. Maybe I just shouldn't think this much and take it easy and simple.
When my coffee stirred itself in my mug, I pulled out the twirling spoon and smacked it on the table annoyed. Like in a witch's hut, some things just started moving by themselves. This house could also sign itself on to the list of haunted mansions in the near future.
Rel was sitting next to me and was still staring. I calmed myself by thinking he's just like a dog. A terribly malformed and ugly dog. If I'll reprogram my thoughts to think of him this way, I can get used to it, and to reach that, I even forced myself to touch him more frequently - despite how much aversion I felt.
Just like now, papers in my left, caressing his head with my right without looking at him. He wasn't disturbed by my almost touching his eyes, not like me who had goose bumps all over just by the feeling of the stretching, more and more rough skin. Aside from the three pair of eyes, I couldn't touch the spine-spikes arcing on his back, or those six grotesque legs either. At least his rotting smell had completely faded already.
- I should take it, shouldn't I? - I asked, as if he could answer. - I don't even know if you should be fed.
- Naturally, everything that exists, needs to feed on something - out of the blue, he suddenly stood right next to the kitchen block. - And this Berehs is nothing like the others.
- What makes him different?
You. This one, unlike the others, was born by the union of both summoning methods at once. Visible for mere mortals, but can turn metaphysical too to let them blindly pass him by - he stood straight, in a black shirt and pants, with almost simple human elegance. That made him really terrifying. I couldn't see his true self, but he was surrounded with an ancient, dark and raw power. The fact, that he could make his face seem this beautiful and acceptable, mystifying me this easily, compared to what he was actually capable of, I had no words how fearsome it was. He was unpredictable.
And I, surprisingly, was quite lonely for him not speaking, manifesting or presenting himself for these last three days. I was left alone with Rel, the voices, visions, and paranormal phenomena.
- Where have you been?
I was here all the time - he appeared behind me in a blink of an eye, covered my eyes with his cool hands and whispered in my ear. - How many times shall I remind you, you will never get rid of me?
You don't have to remind me. I got it - I replied obediently, just to prevent him from starting my preparations over again.
What a pity - I closed the vibes of his laughter out of my mind before I started trembling like a newborn colt. He took a deep breath as he smelled my hair. Somehow I was sure he rather inhaled the fragrance of fear instead of the shampoo.
- I'll take it - I patted the monster's head still blindly who to my biggest surprise growled and took my whole wrist between his huge teeth. I panicked for a long moment, that he's going to bite my hand off, but nothing of the sort happened. The razor-sharp teeth scratched my skin but imprisoned between the jaws I sensed the plea: for blood. The three-days old wound still hurt, not less the move with which I pressed the edge to a tooth and reopened it. As the warm blood started flowing I felt the long tongue embracing my arm.
Rel's growl filled me with some kind of… motherly satisfaction. The cold hand released my eyes, but I didn't look for its master, just stared into the six - already red - irises and leaving the papers on the table I caressed his head with the other hand. As he was sitting, he placed his two front legs in my lap and we just stared into each other's eyes. By the time we finished with the feeding-connection, the spikes on his spine grew bigger and sharper to tore out of the skin, and they continued their line to the end of his tail as the outgrows of every vertebrae, the skin that tightly pressed on the horse-skull head grew more rough and more vivid greyish-red without the sign of the former exuding. Even his jaws grew while being fed.
I got way too far from what they call human.
I cannot wait to see the detective's consternation.
We won't drag anyone into this.
If you still believe you will have no effect on the life of mortals, I will leave the joy of surprise for you to discover. Oh, but you might look out the window.
My body obeyed not a request, but an order. I walked up to the kitchen window and pressed my face to the glass as close as I definitely didn't want to, and didn't let me off the view.
A flayed man hit my window, bawling and completely out of his mind, broke the glass and with mouth gaping with his tongue cut out, bellowed inarticulately, reaching for me through the broken shards. Behind him, the street was just like usual at first then the houses started blazing from a storm of heat that burned everything slowly and mercilessly, where only the creatures of darkness could walk, hunt on a rampage, unaffected. Corpses burned without flames on the ground, in twisted positions, while being eaten, crackling and crunching.
- 'ou fau'! - he bawled into my face wildly, holding onto my blouse, trying to get through the window with all his might. I tried to free my clothes from his grip screaming, until the creatures banned from Earth gathered to the screams: a faceless humanoid freak pulled him back with claws sank in his throat, his leg was torn by another Berehs, while something else appeared behind them .
It crossed the hot red storm: its body wizened to grey, built only from bones and tendons, hit four meters height, his long legs arcing backwards like a bird's, but its pelvis was human. Its hand bones ended in black claws, ribs cobwebbed, its long neck was only an arched column of vertebrae, its holey wings spread on its back wide as it charged with three rumbling steps, grabbed the human in one hand and the two monsters in its other and stuffed all three between its enormous jaws at once, with the terrifying sound of crunchy chewing. Black and red blood flooded to the dry, smoldering ground as their remnants slowly disappeared between the teeth. It feasted on them like humans eat a juicy ripe peach. The huge black orbs in the eyeholes of the long head didn't even reflect the dashing red storm lights. It swallowed every light… and this thing, in the middle of its feast glared at me, while everything fell out of its mouth wasted due the fact that it had nothing to swallow into.
With one of its bloody hands it reached out to me, just when I managed to tear myself out of my own demon's control. Kicking myself back from the horror, I fell through my own monster, my head hitting the table's edge.
When I finally lifted my hazy gaze, the window was broken but the afternoon rain was just about to fall, the air was filled with a cold, heavy fog. My blouse was missing a piece and I still felt the hot air burning my face.
- What the heck was that?!
Live picture of how you can affect your own world. Beautiful, is it not?
The first things I could and did hold onto were the spikes standing from Rel's back to at least sit up.
Somehow I wasn't disturbed by them at all.
- What business do I have with the world at all?! You think I'd free hell? I'd rather die!
Are you sure? Even so, you kill so easily - as I rubbed my tears off, the same skinned man - not just burned but already half-eaten - screamed at my face from zero distance, crawling on my kitchen floor.
- Not my fault! - I screamed back into the empty eyeholes, bleeding throat, kicking myself from the floor as far as I could from the phenomenon missing its lower body. - Disappear! - I leaned to the cupboard and Rel's tail, still gripping his spikes to find shelter in his body's cover, hiding even my face in his neck just to avoid the terrible sight.
What do you think, what did the man feel in the car? How long did it take for the teeth to tear him apart, how long did he struggle with untouchable darkness until it devoured him? Who sent him where he is right now? Who is at fault? Who wanted to stay alive at any cost?
**
**
The death screams echoed in sync with my own from the other side, until the visions finally faded, but I sat there with torn blouse, burnt skin, crying into the monster's neck.
Do you think you have the right to regret it, or pity yourself?
**
**
Rel's tongue licked my tears and healed my skin too. The three day's lack of sleep, torn nerves and this last vision drained all my strength from my soul.
What was this for?
If you think, you will not affect your world, you are highly mistaken. Why do you think you seek comfort in a Berehs? Why did you overpower the shadowslings?
What do you think you are?
I have no idea what am I. I don't want to know. Maybe I don't even want to be.
This will change as well. I promise.
I regained consciousness on the kitchen floor alone, cold, and to my cellphone's ringing. Somewhere. My whole body hurt and I shivered from the rain's cold that poured in through the broken window.
Rel marched in with my phone in his mouth. I patted his rough head as if he was really just a dog. This ain't okay either. Nothing is okay.
- Everlast.
And Oldwood here. Three days have passed, you haven't replied. I'd like to know your answer.
My apologies Detective, I had…. plenty to fight with in the last three days - I rather threw in honesty, even if it couldn't cover the whole reality. Or it did… too well. - I take the job.
Terrific! - his sonorous voice sounded extremely happy. - Meet you on your first day on Monday at the office with a signed labor contract, Assistant Detective - and with that, he hung up. If only I knew why he was so happy about that!
I stood up and covered the broken window, thinking why this vision left more physical trace than the former ones. My mother's apparition didn't leave bloodstains to clean up, the veins on the walls dried and vaporized.
As I started to sweep the glass shards I recalled the tortured man's nightmarish pictures again and again, and that huge… I had no idea what, that chewed him together with the monsters.
I was so cold I yearned for nothing but to wash the cold out of my body and the visions from my head, so I closed myself up into the bathroom and let the warm water pour on me. I hoped for a moment of peace.
I was wrong.
The moment I could relax by the water, thick warm blood was flowing through the tap. To my first shock I jumped out from the bathtub, sliding, struggling on the tainted white tile.
- The fucking hell! You son of a bitch! - I yelled climbing on the toilet cover while Rel was scratching the door and - exceptionally - the demon was laughing physically from the other side. - Bloodbath?! SERIOUSLY?! Wasn't it enough already?
The door slowly opened wide, his black-clawed hand leaned on the doorpost from the dark corridor then his death-pale face appeared smiling, with his red irises, point-sized pupils and the whites of his eyes pitch black. Despite the hand placed on the post, his face levitating in the air turned upside-down and replied giggling in a screeching voice.
Never. Enough.
**
**
That was the moment I woke dead-frightened in my own bed to the noise of the alarm.
I had no clue when I was dreaming, had a vision or saw reality. My cellphone was downstairs, on the kitchen table, where I left it after Rel brought it to me, so at least I knew that saying yes to Oldwood was real.
I almost got a heart-attack when I turned around and suddenly faced the six-legged Berehs, starring back at me.
- Oh for fuck's sake - I sighed. At least I didn't fear him anymore, but I gave the broken window a wide berth and waved him to come closer. The six legs moved in perfect synch as he walked up to me and stopped. Its hip's, neck's, tail's moves amazed me. He was stable, and I was sure he was flexible, able jump high and far, that it had an enormous force in every part of his body. The thought that there were bigger, more fearsome and merciless creatures existing like that four meters high monster horrified me.
There was nothing to protect me in this whole world from then on, but from tomorrow, I would be forced to go out to the streets, start the job, and knowing this, try to live.
Caressing Rel's bony head I realized that whatever happens after this, I will affect everything I touch. That the thing I have become is the gate of darkness, and I'll be ran through.
(Published with permission of the author. Republishing is prohibited!)